I have authored several books about Golden Gate National Park, and am a co-author of the Natural History of San Francisco Bay, which was published by the University of California Press.
University of California Press, 2011
NATURAL HISTORY OF
SAN FRANCISCO BAY
This book, part of the California Natural History Guide series, includes over 300 pages of text, color photographs, maps and charts. At its most basic level, Natural History of San Francisco Bay, tells the reader what lives in the Bay, how its waters move and change, and whether it is safe to swim in or eat fish caught from the Bay. On a deeper level, it offers an overview of how the Bay became the most altered and invaded estuary in the world; describes how history has shaped its present shores; and explores how recent generations of activists and scientists have rekindled interest in the Bay's current and future health.
I co-authored this book with science writer Kathleen M. Wong. As of 2019, we are working on an update, redesign, and reprint, and hoping to repackage online as a regional resource.
2013 Harold Gilliam Award for Excellence in Environmental Reporting
"A hugely informative primer on San Francisco Bay."
— San Jose Mercury News
"I used this book as a required text for my environmental science course at UC Berkeley. It's beautifully written and illustrated, and is very engaging for a broad cross section of students.
— Professor B. Lynn Ingram, University of California, Berkeley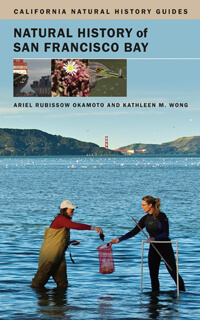 Early books no longer in print….
A day at the seaside
John Muir NationaL historic site
Guide to the Parks
Exploring A Sense of place
Now out of print, but who knows, maybe Amazon or your local bookstore has a used copy.